Your Guide to Finding Sex in Las Vegas
Welcome to Las Vegas
You're here! You finally made it. Took you long enough to shake the old lady. Haha, we kid, but we don't judge. So whatever brought you here, whatever excuses you had to make up to finally come out to Las Vegas, and whether you came alone or with a group, we are here to welcome you with open arms. Not too close of an embrace though, because is that a candy bar in your pocket, or are you happy to be here?
Las Vegas is the adult entertainment capital of the world. Sure, there are some good spots in other ares around the globe, but here in Sin City, if you want it, you can pretty much have it. You just need to know where to look. Whether it is hot naked women, incredible nightlife, incredible nightlife with hot naked women, gambling, live performances, or anything else in between, we have it here.
There are guides for scoring the best tickets, how to score hotel deals, which casinos have the best odds (*cough* none of them *cough*), and where to locate the ultimate Vegas buffet. But that's not why you are here with us today. You're here because you want a guide, or blueprint if you will, in how to find sex in Las Vegas.
We'll go over the different destinations where finding a special someone (or, at the very least "a" someone), what your odds are, and how much money you're probably going to need to spend, in order to prove successful. Sure, there are outliers with everything, but this is the most comprehensive set of tips, tricks, and suggestions you're going to find anywhere.
Tips for Finding Sex in Las Vegas:
---
Hookup and Dating Apps
Whether you're using Bumble, Tinder, Hinge, or any number of the other dating apps out there (Christian Mingle, anyone?), there's a high level of variance with this.
Here's the thing with these kinds of applications. You're going to run into two groups of people: locals and visitors. Locals are going to, more often than not, cut right to the chase and find out if you're visiting or if you live in the area. While there will be some who want that one-night-stand, you'll instantly limit yourself with who you have access to. And you can't really plan ahead. The majority of dating apps have some variation of the "travel" mode (usually you have to pay a monthly fee for this). With the travel mode you can set your location to anywhere in the world. That's great if you're traveling and want to know someone ahead of time, but with Las Vegas it doesn't really work.
In Vegas, you're going to match with either visitors who are there before you arrive (and likely won't be there when you are in town), or you'll match with locals who probably don't want to deal with someone in town for the weekend.
There's also a side-issue with the apps. Hookers are known to post themselves up with super sexy photos on the apps. You'll match, you might start talking, and then you might find yourself in a position where they are asking you to pay for some sexual services. Do not, by any circumstances, do this. You're very literally offering, in writing, your desire to pay for sex. That's about as busted as you can get if it's a sting operation or if the police some how end up with it.
If you are bored in Vegas, have the app on your phone, and just want to test it out, by all means give it a whirl. But there are very few pros and a ton of cons involved when using these dating apps in terms of attempting to score a quick lay. We say use it for fun when sitting on the can in the morning. Don't use it as a serious method for finding anyone to hook up with.
---
Tours
There are all kinds of tour options available, both inside of Vegas and day trips that take you outside of the city. We'll break them down individually.
Club Crawls
This is basically the Vegas equivalent of a pub crawl. Usually these are hosted events with semi-limited reservations. You'll pay some kind of sign-up fee (usually), then meet up at a set club, where the organizer will be. There they will take you around to various clubs in Vegas (or at least in one particular casino). This is a good way to skip the lines and get into various clubs, so there's little waiting usually, and while you will be with the same group for much of the night, there's no guarantee you'll meet someone. Plus, some people will likely break off by the end of the night. It's hard to say who will finish the club crawl.
These particular club crawls can cost hundreds of dollars. It really depends on what all is included. Sometimes you're granted VIP tables in different clubs. You'll also probably be buying drinks for the person running the club crawl. Because club crawls are limited in space there's no guarantee you'll be in one with a bunch of hotties. Plus, bachelorette parties and other girlfriends usually arrange their club crawl as an individual group, so chances are you won't be included.
This is going to cost you hundreds, if not thousands of dollars over the course of the night (depending on what you drink), and unless you can swoon a woman with your VIP table access, you're probably not going to score anyone. We'd give this a 2/10 bang probability.
Off-Road Tours
We love spending a few hours out of the city. There's also an adrenaline rush during some of the tours, which is always great for boosting that desire to bang when you get back. These kinds of off-road tours are usually small, and once again there's no telling who is going to be going on the group tours with you. We wouldn't recommend this specifically if you're looking for sex in Vegas. Instead, we suggest doing it if it's something you honestly think would be fun, then try to work your magic if a hottie ends up in the group. 3/10 bang probability
The Grand Canyon
From Las Vegas you're able to experience a bit of a Grand Canyon peep show. The South Ridge is really the place to go if you want to fully take in the Grand Canyon in all its glory, but if you at least want to see the canyon, or haven't seen it from this side, it's worth visiting. With a Grand Canyon tour there will be a larger group involved, which is always a plus. However, if you're looking to get laid in Vegas we're going to say this tour usually isn't jam backed with bombshell broads. Not to say you won't find any or that hotties don't take this tour, but much like the off-road tours, this is something to do if you actually want to do it. From there, chat up a lady who is taking the tour, and try to hit it off. Never know what that will lead to. 3/10 bang probability
Group Hikes
Of all the getting-out-of-Vegas tour options that have the better potential of leading to sex, we'd say the group hike is the way to go. First, you're physically moving, which is always good. That gets your heart rate pumping, not to mention there's plenty of opportunity to snap some pictures. Second, there are lots of women out there who like to go hiking. Single women are more likely to hike in an established group than go off on their own, so as long as you don't creep or become overly aggressive, this is a good way to go. When looking at getting laid in Las Vegas this, once again, isn't optimal, but if you enjoy hiking, have the appropriate gear, and are more of a free spirit, this might end up leading to one of the fabled Las Vegas hookups. 4/10 bang probability
Cannabis Tours
Between a club crawl and a cannabis tour, when it comes to tips on getting laid, we 100% recommend a cannabis tour. With a club crawl you're yelling over loud music, trying to follow a group, paying a crap ton of money for drinks, all while trying to make it to the morning. With a cannabis tour, it's a bit more laid back. You're going to find some like minded girls in Las Vegas that want to smoke, and it's a far more laid back environment. You won't have to yell over music, and how often were you at a college party smoking a joint and you just ended up plowing the girl next to you because you shared a love of weed and the band Puddle of Mud (points to us for being the first website to mention Puddle of Mud in 15 years).
Even if you don't get laid, you won't care, because you'll be so chill by the end of the tour. Bang probability: 5/10
---
NightClubs
The nightclubs in Las Vegas strip are unlike anything else in most of the country (not named Miami and Los Angeles). Especially Tao nightclub or anything at Mandala Bay. They are loud, huge, and you will hear the bass pumping through your chest for the next month. Sometimes you have to be on a private guest list to get in.
Before you enter and hit the dance floor, you need to consider your own, personal history. Have you ever been able to score a girl at a hometown club? Are you comfortable with dancing with strangers and able to excel it to something else? If you are, then yes, this might be the easiest way to get laid without paying a boatload of cash. If you've never been able to manage this kind of setup in the past, look for another option. 
Here's the thing. Most of the girls dancing at the club are visiting, just like you, so you don't need some kind of special move to land Vegas girls (although you might be dancing with some girls from LA, in which case they are likely accustomed to the setup). As you already know, it really comes down to how cool the girlfriends are. Does the woman you're dancing with have women who are always trying to pull her away, or are they cheering her on? Cheering her on? Keep at it. Pulling her away? Don't waste your time, because eventually they will pull her away.
Bang probability: 7/10 if you've landed women in nightclubs before. 3/10 if it's not your scene.
---
Strip Clubs
Ahh, the classic strip club. You probably remember the first time you ever walked into one. It was like tasting sugar for the first time. You knew such a place existed, and yet something about it seemed like a fairy tale. Girls, dozens of them, all willing to take their clothes off. And all you needed to do was pay an entrance fee to get inside. How incredible is that? Don't even get us started about tossing a buck onto the stage and getting a face full of cleavage. That might be the single greatest return on investment in the known universe.
But what about getting laid in strip clubs? Okay, so, yes, it is possible, but there is a lot, and we mean a lot, of angles to consider, one of which is how much money are you willing to throw down.
If you pick the right girl (impossible to tell who is the right one. It's more a crap shoot than anything else), and you get a dance from her, she will ask if you want a VIP dance. Naturally, due to their body language, you'll say yes and you'll pay for the hour. After a second or third hour she might float the idea of tipping her extra. She'll throw out some random number. Usually a few thousand bucks. You've already proven you're good for the other hour long private dances. At this point you might able to finagle some kind of "extra" service. This, though, is where it really gets sticky. First, there are cameras in those private booths. The establishment needs to make sure people aren't blowing and screwing dudes for cash, because once that happens it's soliciting prostitution inside of their establishment. So, you might be able to get something out of the girl, but she'll block the camera with her back, and at most you might get a tit-job through your shirt. There's some true hotties at the strip club, but ask yourself, is dropping $10K on a tit-wank through your shirt really worth it? There are better ways to blow cash like that. 
If you venture off the strip and try one of the other strip clubs you might be able to get this to work for a little bit less cash and a bit more skin, but still, you're tossing a lot of money around with not a ton of reward. If you're a high roller and don't care, be our guest, just know that there are other ways. So, if you're wondering if strippers will have sex with you, the answer is it is possible if you have enough cash (but no guarantees). Ideally, this is not the way to meet girls.
Bang Probability (with unlimited funds): 6/10. Small Budget? 1/10
---
Pool Parties
There are pool parties all around town. Some of them are regular, bathing suit parties, while others are topless pool parties. These can be fun, but you also have to be very careful. If you know you tend to leer or struggle controlling yourself around topless women after a few drinks you're better off skipping this. Too many potential problems.
As long as you can control yourself and you're not just creeping on girls, it can be fun. But is it a great place to get chicks? Well, that depends. Are you super ripped? Be fully honest. We don't mean you can spot one ab if you suck in your gut long enough. And we're not talking about large arms that are made up of more fat than muscle. We're being brutally honest here. There's going to be toned, fit guys out there at the pool, and they will be the ones getting the attention.
If you are shredded, then absolutely you stand a great chance at picking up a girl. Part of the problem is getting your shirt off to show off your great body. A pool party is the perfect way to do that. Honestly, you might be better off at a non-topless party. The girls are wearing little to no clothing anyway, and then you won't run the risk of staring too long (make sure to wear mirrored sunglasses. That way nobody can see what you're looking at).
Our suggestion, if you're not ripped (or even if you are), go for the girls that don't get as much visual attention. There are going to be some with tight bodies and plastic titties and perfect teeth and way too much makeup for a pool. All the guys are going to check them out, which means you're competing with those other guys. Instead of going for the dime, go for the girl who is a solid 7. She's still got that great girl next door quality about her, but she's not necessarily standing out because of the other girls. You won't have as much competition, and it's perfect for having conversations without other bros trying to cut in.
Bang potential: 7/10
---
Local Bars
These are destinations away from the Strip, where locals go instead of visitors. These are nice, chill spots. Often they are more of a dive than anything else, but there are still some solid bars away from the tourist zone. It's a nice spot if you want to chat it up with locals.
The thing here is not all locals are interested in a one-night-stand. They know you are leaving soon, so why put in the effort. The good thing about the Strip is that just about everyone there is after the same thing, and there's usually no strings attached. We recommend going to a local bar if you want to get away from the crowds, but not if you want to meet someone in order to enjoy your sex vacation.
Instead, probably the best bars around when you're trying to answer that age old question of "how to get laid in Las Vegas" is either a casino bar or your hotel bar. Honestly. The best bars in Vegas to get laid is where you'll find other visitors, just like yourself. Here you will find people who are passing through, wanting a drink, possibly taking a break from their group, and looking to relax. It's much easier to talk at one of these bars than at a club or strip joint. You have a few talking points about playing games or where they are from. And it's easy enough to start up a conversation. We like doing it right at the counter. Slip up to the counter, order a drink, and if someone catches your eye buy them a drink. Super easy. Then just see where it goes from there. Hell of a lot cheaper than paying tens of thousands of dollars at a strip club.
Bang potential: 7/10
---
Escorts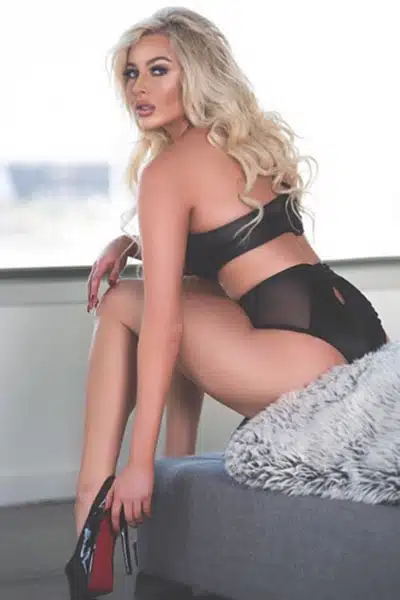 First of all, escorts are not prostitutes. We want to get that right out in the open. Just because you book time with an escort doesn't mean you are granted some kind of golden ticket to all the sex dungeon experiences and sex shows you've ever dreamed of. But beyond that, can you have sex with an escort? Absolutely.
So we're going to tell you how this works. You'll pay an up-front fee through a booking service (for the love of god, do not get an escort from a Craigslist knockoff or from under a bridge somewhere). This payment reserves the woman's time. No background check needed. You can pick from fetish escorts, to specialty escorts to your traditional blonde big tits broad. Once your escort arrives and you start talking, you will come to the extra services you want and how much those services cost. This is when you can see what you can get. For this sex guide Las Vegas rundown, you're not just going to say you want to pay a grand to plow. There's more of an artform involved with this. Some give and take. But if you play your ards right, this is the easiest way to get laid, if you have some money. It's also likely far less than what you'd pay at a strip club.
Bang potential: 8/10
---
Strippers
We already went over trying to score with strippers inside of a club. No club strippers will have sex with you. But what about strippers you book to your room? You do have a better shot at this. There's no cameras or bouncers looking over their shoulders. In this way you might be able to negotiate like you would an escort. But there's no guarantee. These girls are also accustomed to being asked about finding sex in Las Vegas, so you won't be able to low ball them. As is the case with many of the entires here, if you're willing to cough up the case (a few thousands bucks at least), your chances are good. 
Bang potential: 7/10
---
Erotic Massage
With an erotic massage you're already half-way there. You're naked, and chances are she will be too. You run a solid chance at getting a happy ending, for an extra fee of course. But will it lead to full penetration? Depends on the girl giving you the massage. Don't ask right away though. Let the massage start before bringing up extras.
Happy ending potential: 8/10.
Bang potential: 7/10
---
Brothels
If you're not able to get laid at a brothel you're completely doing something wrong and you might want to rethink some things. Brothels are not legal in Las Vegas so if you see advertisements for Las Vegas sex club brothels, just know these are outside of the county. It is illegal for prostitution or brothels to exist inside the city. So you'll be paying to head out to one of these locations. 
At legal brothels you can order yourself mature prostitutes, legal teens, or anything in between. It'll cost you though. So if you want the only sure-fire way of getting your rocks off, head for the brothels. These are legit Las Vegas sex workers. 
Bang probability: 10/10
---
Massage Parlors
Just the name sounds a little seedy, doesn't it? Well, these massage parlors offer massages, and they might offer something extra. Want to know which one is which? Google massage parlors and see what kind of results turn up. Now, the girls here won't be as good looking. But hey, if you just want a quick HJ, it might be worth it. Just don't pull a Bob Kraft and be inside one when it's raided.
So yeah, you can likely get a little action if you do a bit of research beforehand. Just keep in mind, you're paying for a sexual service, which is technically prostitution. Just keep that in mind.
Bang probability: 6/10
---
Swinger Lifestyle Clubs
These sex clubs are a little different than the strip shows and brothels you go to. In this sex guide Las Vegas rundown, it's important to point out the potential for swinger sex club parties.
Basically, you go to a club set up specifically for swingers. Show up with your misses and you'll be granted access. If you show up on your own, you will have to hang around to see if someone inside grabs you. Once inside the Las Vegas sex party, you're able to partake in sex. So if you're into the best club in Las Vegas for couples, do yourself a favor and head to the swingers clubs. You'll be able to indulge in some kink you likely never had previously.
Bang probability (with a partner): 9/10. (Without a partner) 4/10
---
Cabaret Shows
This is a show. That's it. There's little to no direct contact with the audience. Basically it's an upscale strip show where you can't mingle with the performer.
Bang probability: 0/10
---
Self Service
You already know how to spank the monkey. But if you strike out, head to one of the local sex shop destinations around town. At the sex store you can buy a toy and have some fun, as many times as you want. You might even be able to use the sex toys inside a video booth, or a theater in the back. And if you're open to a little manly assistance, it likely is a viable option.
Bang Probability: 7/10 (if going to a sex shop with a theater and you're open to dudes).
---
Additional Tips
The top tip is don't be a creep. Just be yourself. It's okay if you're nervous, but don't leer or lunge or anything like that. Just because you're going after sex doesn't mean you can't be a gentleman.
Next, massage the topic. Don't just drive right to the whole. Play coy a little and work your way to what you're looking for. The girls want to make sure you're not a cop. Once that is established it'll be easier for you to request something more serious.
You will want to dress to impress. Nothing sloppy, and this includes great hygiene.
Don't get attached. This is likely a one-time thing. So don't fall in love. It's not going to work out for you in the end. But keep positive vibes. Be happy, and don't get sloppy drunk. That's a recipe to get taken advantage of. And if you do score, make sure to strap up and use protection.
Lastly, do a little planning. Know what you want to do and research it. Check out the bars at your hotel or casino and look into the vibe. A little research ahead of time will go a long way.
---