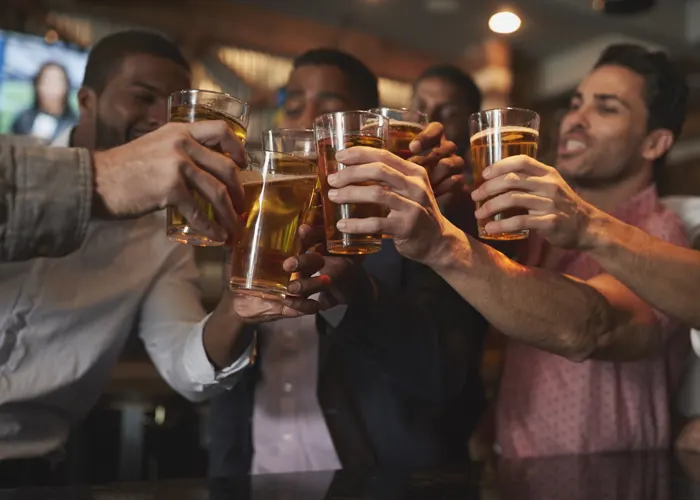 The Ultimate Guide To Vegas Bachelor Parties
Tips, Budget, & Ideas For Your Vegas Bachelor Party
A Best Man's Guide
Ah, being the best man. It's a pretty big honor to have your buddy ask you to fill this position as his wedding. He's basically saying not only are you his best friend, but he trusts you above everyone else not to screw things up. The maid-of-honor tends to steal all the planning glory, but not be mistaken, best man is a big deal. 
Decided to come to Vegas for the bachelor party? That's a good start. Unless you kidnaped the bachelor, knocked him unconscious, and twisted his ass into a large checked-bag, chances are he knows about Vegas and is cool with it. So that's a start. You just need to figure out what to do in Vegas and how to make the best of your time in town. 
Not sure what to do? Not a problem. From a Vegas bachelor party on a budget, to how to plan a bachelor party in Vegas, here's the nitty gritty you need to know. 
Save Yourself Some Trouble
This page contains A LOT of information! We totally encourage you to dive in and soak it all up, and we've provided some quick links to help you jump to the content you want to read, or return to review it all as your bachelor party planning takes shape.
There's something for everyone in Vegas. And here's the thing. Other blogs might tell you not to go golfing or let the bachelor go rafting unless there are nude chicks or copious amounts of booze. 
Don't listen to them. Because you know what's the worst thing you could do as a best man? Not doing anything the bachelor actually wants to do. Of course you're going to a strip club and there will be alcohol involved. But you know your buddy. If he's an avid golfer, not letting him golf is kind of a dick move. If he's an outdoors guy, let him do something specific for him. Because if you don't, you're making it more about yourself than him. 
Besides, you'll have plenty of ways to take advantage of what Vegas has to offer. Just make sure some of those things are things he wants to do. 
For real though, if you really just want to party without the headache of all the planning, call VEGASPLEASURE to have it all handled for you, the right way!
How Not To Fuck It All Up
We're not going to tell you how to cover your ass when it comes to the misses. She knows you're going to Vegas. She's not an idiot. Just keep the itinerary of the bachelor party as basic as possible with her. That's actually why letting your buddy go golfing or something is a great idea. He can bring that up when asked about it later.
The "what happens in Vegas stays in Vegas" line doesn't always work with the wife. So discussing the golf course or bike trail is a solid contingency plan in case she starts to question what went down.
In reality, you need to set up ways for everyone to get back safely to the hotel. Make sure everyone has a key card and has their name in the hotel registry. Because you know what sucks? Getting back to the hotel extremely intoxicated and not having a key.
Everything else will work itself out.
Live It Up, You're In Vegas!
Of all the Las Vegas bachelor party tips, the top one is just make sure to have a blast! Because it's your buddy's last big single event. So do it right and have no regrets.
Vegas Entertainment Options
Daytime Kicks
You want to keep everyone entertained during the day. When people ask how much is a bachelor party in Vegas, the answer is it can be as cheap or as expensive as you want it to be. While planning a bachelor party in Vegas, it's easier to save money when you put some time and effort into it instead of winging it. Need some options? Here's a few.
Top Golf Is Better In Vegas
Maybe your buddy wants to go golfing, but the rest of the gang really isn't all that into golf. Perhaps compromise with Top Golf, which is like a golfing range on steroids. Add in AC, shade, food, drinks, and even some pool and arcade games and this is one of those Las Vegas stag do tips to keep in your back pocket. Because it's fun, will kill a few hours, and keeps you out of the sun (which is a plus if you burn easily). For those who really want to indulge, you can invite some company along to sweeten the whole experience.
Top Golf Las Vegas
4627 Koval Lane
Las Vegas, NV 89109
The Gun Range Vegas Style
Want some real insights on how to plan a bachelor party in Vegas? Go out and shoot some shit. Even if you're not a gun guy everyone loves to shoot some crazy guns. M-16s, uzis, grenade launchers, Gatling guns, there's some things you can shoot here that you won't find anywhere else. When building your Las Vegas bachelor party itinerary, make sure to include this.
Battlefield Vegas
2771 S Sammy Davis Jr. Drive
Las Vegas, NV 89109
Dream Car Fantasies Fulfilled
There are a handful of spots in the United States where you can rent your dream car. Miami, LA, and Las Vegas are three of the best. But in Vegas there's actually space for you to drive it around town. Not comfortable with the idea of driving a Ferrari downtown? Can't blame you, because even that complimentary rental car insurance your credit card hands out isn't going to cover a bump in the Bentley. So instead, head out to one of the driving tracks and take the dream wheels for a spin. It's one of those Vegas bachelor party ideas everyone will love. And if you need budget bachelor party ideas, just pay for your buddy's car instead of the entire group.
Party Your Way To All The Vegas Sights
Whether you're planning a more "wholesome" bachelor party and are looking for Christian bachelor party ideas or everyone in your group is rocking embarrassing bachelor party shirts and want to get wrecked by the end of the night, a sight seeing tour on a party bus is a great way to get around town, see the sites, maybe pinpoint spots you'd like to visit later, all while having the beverages and company of your choosing.
Elite Transportation
5041 Sobb Ave
Las Vegas, NV 89118
Get Your Adrenaline Fix
There's some great views from The Strat. There's also some fantastic rides as well. Don't want to splurge too much as you're planning a strict bachelor party budget? Head on up just for the view. Want to get wild with your party ideas Las Vegas activities? Arrange to take part in the rides or even opt for the plunge! Just make sure get there early, because if you miss your reservation they might not let you on.
Video Games On Video Games On Video Games
Maybe you have some time to kill, or you're looking for bachelor party ideas no strippers are involved in. If so, play video games at one of the many massive arcades. This is also a great option if you want a few "photo ops" for the folks back home that shows you're having fun and doing clean, wholesome activities (it's nice to have some breadcrumbs for any of those social media hawks that just assume you're going straight to the strip clubs and brothels).
GameWorks
6587 S Las Vegas Blvd Suite #171
Las Vegas, NV 89119
Nighttime Tricks
There's infinite possibilities when it comes to Vegas night life. And if you got roped into one of those dual bachelor bachelorette party ideas (which is like 99.9% the woman's suggestion, usually because they either don't trust you, or they want to go to Vegas as well…), it's nice to have some nightlife options for everyone.
Vegas Night Clubs
Heck, you don't have to leave your casino hotel for this one. Every major casino and hotel on the strip has night clubs right inside. Talk to the front desk to see if they let bachelor or bachelorette parties in infront of those in line (there's a better chance if it's a bachelorette party, but hey, you never know). If you really need to do a nightclub, you really should do a club crawl to get the best value!
Top Las Vegas Night Clubs
"Club" Crawls
Club crawls are fun, but they can also get a little messy the later into the night you get. If you do want to go on a club crawl have the clubs mapped out that you want to go to. Because if you're just winging it, things might eventually start to fall apart. Vegas Pleasure has the club crawl package that will take the headache out of your planning.
Top "Club" Crawl Packages
Gentlemen's Clubs
Looking for Las Vegas stag do ideas? Um, well hello, strip clubs. There's a billion out there, and anyone who has been to Vegas will have different suggestions and party ideas Las Vegas has to offer. But when it even be a bachelor party without at least strippers gracing your event? If a big club is not your style, we can always hook you up with some in room strippers for your adult entertainment…
Top Bachelor Party Strip Clubs
Private Party Girls
So maybe you don't want to head out to the strip clubs. Or perhaps you'd like a little bit more of a personalized experience? Private party girls is the way to go. You can order girls and have them go right to your room. What's a real laugh is when you arrange this ahead of time and never say anything to your buddy. Then have her come in like the maid, as hotel management, or something else of that nature. Make it a real surprise so he thinks he's getting in trouble and then BOOM! Sudden lap dance.
You know your friend the best, but keeping a few tricks up your sleeve is absolutely the way to go, and this is, by far, one of the best tricks you can keep up your sleeve. After all, what is the point of a bachelor party if there isn't any unsupervised fun back at the hotel room?
Top Private Stripper Agencies
Vegas Bachelor Party Etiquette
No matter the group size, no matter the budget, no matter if you're going as a Christian bachelor party, a Buddhist bachelor party, or an-in-search-for-booty bachelor party, there are very specific bachelor party etique rules you and the group must follow. Because if someone goes sideways and decides to go rogue, it could mean problems for everyone, especially the bachelor. This is part of the unwritten bro code. And anyone found in violation of the bro code will be excommunicated from the group, no questions asked.
Code of Conduct
As stated earlier, no social media posting or tagging, except for very specific, strategic posts. Posts that show the group golfing or riding dune buggies or at dinner. When releasing information you want to control the narrative. Don't let someone go off script and start social-blasting strippers and lap dances.
Make sure everyone understands this. And for that one guy in the group that just has to document everything? Well, you might need to consider getting him a burner flip phone with only your numbers programmed into it. Seriously. Nobody is above the bro code, including social (wannabe) influencers. Remember. No fight, and no getting big heads. This is about the bachelor. Not you, not your buddies, not anyone else. The bachelor's vote vetoes everyone else's opinion. Make sure everyone knows this. It's his party, not theirs. It's like his birthday party times a billion.
Themed / Coordinated Outfits
When you see a bachelorette party walk into a bar and everyone is wearing sashes and crowns and "bridesmade" printed over black v-necks that obviously don't fit everyone right, just how hard do your eyes roll into the back of your skull? It's nausiating. There's no need for it. Do you really want to be linked to something like that? Sure, maybe it could net the bachelor a few complimentary drinks, but you'll be that drunken party with t-shirts with your best friend's face on it. Best to avoid something like that.
Besides, there might be times where you need to distance yourself from members of the group. Maybe your buddy just knocked over a table and the bar's trying to get him to pay for the spilled drinks, but he doesn't have his wallet. Guess who's fronting the bill? The guys with the matching t-shirts. While you need to have a no-man-left-behind mentality, it's better to ditch the costumes, unless there's a Star Wars convention in town and everyone's showing up in their cosplay Mandalorian getup.
Pro tip: There are some people out there who will tell you, "oh yeah, absolutely get hats and t-shirts made, it'll help you out!" No. Don't do that. Yes, some bars and strip clubs will offer some perks, but you don't need to wear a trucker hat for that. Just tell the bouncer or call ahead. That's it. You don't have to dress like a sap to score deals.
Dress Code Is A Thing At Vegas Venues
Let people know what you have planned. You're all adults (whether you act like it or not), so most of you probably have some grasp on what to wear. You know what to wear for a business-casual dinner or when going clubbing. But, just in case, make sure everyone specifically knows what's going on and what needs to be worn. Let them know some bars might not let them in if they are wearing baseball caps (some strip clubs don't allow this), go over not wearing flip-flops or sandals with socks around the casino, or anything else like that. Some of your buddies might need that extra hint.
When it comes to looking over Las Vegas bachelor party things to do, your shindig can quickly become expensive. Especially if you're the best man and you're pulling it altogether. But you don't want to just front the bill for everyone, so follow these budgeting suggestions.
Timing Matters
In general, the sooner you book stuff the less expensive it is. Yeah, sure, there are times you can score a sweet hotel deal if you wait, and yes, there will be some hotel space available because there are a billion hotels in Vegas, but then you're letting people in the group guess what it might cost. Not a good way to go. Plan in advance, pay as you book, and make sure everyone knows exactly what things are costing.
Do Your Due Diligence
This needs to be a pay-for-admission kind of thing. Don't buy everything and wait for people to pay you back. Because there will be some in the group that skimp (most likely). Let your group know this. Tell them that they need to pay for the activities before heading out in order to be included.
Sure, there will be probably some activities that they won't be able to pay you for until the day of, but do your best to let people know what things are costing and collect the money early on. Book your hotel and share the price with everyone. Because Vegas hotels typically don't just have a regular price-per-night. There's also a resort fee, an electrical fee, a deposit, and all kinds of other added expenses. Add it up and break it down for everyone per person. You might need to tell people what it will cost if someone bails. Use peer-pressure to your advantage, because if you can't get someone to pay, perhaps all of your friends bothering the person not paying to pony will end up working.
Night 1
Go easy on the first night. People have flown in, possibly from all over the country, so they might be tired. Schedule a dinner and maybe some evening activities, but don't go big on your first night. That is unless you only have a night or two in Vegas. If that's the case, you don't have time to lean into it. But usually the first meal is a good opportunity to get everyone on the same page, to even out any debts, and to decide just how hard you want to go the rest of the evening.
Want to save cash on drinks? Grab yourself a quality bottle of scotch or something off the strip (the further away from Vegas the better). Sure, you could spend a couple hundred bucks on Grey Goose bottle service in a club. If that's your jam. But you're probably mixing Grey Goose, and why on earth would you want to mix a $200 bottle of anything? Instead, buy a bottle of Blue Label Johnny Walker, enjoy it at the hotel, and then you'll be able to enjoy just regular cocktails the rest of the night.
Or let VEGASPLEASURE handle your first day planning so you can arrive carefree and ready to enjoy the experience!
Night 2
The second night is probably going to be the most expensive. You have the entire day for activities, so whether you're going to the gun range, driving over sand dunes, hitting the range, or taking a party bus around town, this will be an all day event. Try to look at every possible activity you can do and add it up, plus some cash for every stop for drinks. Chances are you won't get to everything, because few people actually get to everything while in Vegas, but by adding all the possible stops up, you'll have an idea of what to budget for the day.
Also, check out the menu for potential restaurants online. You'll want to do this for two reasons. First, you'll have an idea of what each possible spot will cost. And second, if you're starting to run a little tight on funds, you can navigate the group to another restaurant that's less expensive. Just pitch the highlights of the cheaper restaurant. You can win them over without letting anyone know you're getting tight on funds.
Or you can have VEGASPLEASURE book your second day so everything is handled for you!
Budget Truth: What Is The Bottom Line?
So just how much should you budget for Vegas? That's going to depend on a few things, but let's go over it, bullet point by bullet point.
Hotel
Price can vary wildly. It also depends on how many people you're squeezing into each room. Probably the best way to go about it is to get a suite, so you have two beds and a couch in a single room. This way three guys can pay for a single room. You should budget at least $100 per person per night for the room though. That is if you want to stay on the strip. Staying away fro the strip and you'll save some cash, but do you really want to do that? Part of the thrill of going to Vegas is being in the heart of the action. Staying at the Motel 6 off the freeway isn't exactly the place to be.
A good way to budget it is to go over to a booking website like Expedia or Priceline, find a hotel you like, set up a potential reservation and go to checkout. This will give you the final cost. Also, look over what possible fees might be charged at the hotel. This will give you an idea of what it will cost. The sooner you do this, the sooner you can discuss price points with the rest of the group.
Getting Around
A couple of things here. When you arrive at the airport, don't take the freeway to the strip. It's more expensive. Your driver will probably even ask you if you want to take the freeway. They'll say it's faster. So, naturally, you'll say yes and internally wonder why they even asked you that. It's because you're giving them permission to charge you more for taking the freeway. Don't. Have them take you directly to The Strip and skip the freeway. You'll save money right out of the gate.
Transportation in the city is easiest with a rideshare. Dealing with parking and renting a car is just a hastle. And at least with an Uber you can split the cost up between your friends. Besides $30-$50 for a ride split between three or four people isn't that bad.
Food and Drink
Food isn't cheap in Vegas. You're in tourist central so you're paying tourist prices. Also, get ready to drop almost $20 for a Miller Lite at Hell's Kitchen and other celebrity chef destinations. You're paying for the name on the front of the building. That celebrity chef still has to pay rent to the casinos, and that's not cheap. If you want to save money, go to a restaurant that isn't in a casino. And if you do plan on eating out at some of the higher-end spots, offset that by eating lunch off the strip when taking in day trips, or eat at less fancy (but delicious) spots like the Shake Shack or Tacos el Gordo.
Entertainment Costs
God, who knows what this could be. Seriously this is a crap shoot, because it depends on what you want to do. Looking for Christian bachelor party game ideas? Well you can stay in the room and play Jenga all night to your heart's content. But as for the other activities, things can add up.
Shooting range often charges you per round (or per clip) and the more extreme the gun, the higher the price point (that grenade launcher round is going to set you back a few hundred bucks). Spots like Top Golf might be your best bet, because costs can be controlled, and heading out to an arcade can set you back less than $50 when you include food, beverages, and gameplay.
But if you're looking for strippers, that'll get costly. Show up early enough and there will be no cover in many places, and the $1 stage tip is one of the best monetary investments you can buy (a buck for a face full of boob is about as good of a deal as you're going to get anywhere). Private dances can quickly get out of hand, especially after a few drinks, and you wouldn't be the first person to drop several thousand dollars at a strip club in Vegas if you're not careful. If you do go to a strip club (and why wouldn't you? You're in Vegas, after all), only take cash, and visit an ATM before going. ATMs in the strip clubs will charge you an insane surcharge (we're talking 10% or higher), and that ATM withdrawal will leave a paper trace record someone with a joint bank account might notice.
Timing Timing Timing
Okay, so booking in advance is important. But so is the time of year you go. Plan on visiting when most people have vacations? Yeah, it'll cost you, and things will be busier. But go doing off times, such as in the middle of February, or even close to the holidays, and you might be surprised as to how dead things can be (flying out the day after Thanksgiving isn't a bad way to go). So consider the timing of when you're going to go to Vegas.
Of course, it probably will come down to when everyone is actually able to do it, so you don't have complete control over this. But look at the weekends available to the group and try to avoid major conventions taking place. Small conventions won't do much to increase prices, but major ones will end up boosting how much everything could end up costing.
What You Really Want To Know
So how much is this all going to cost you? At minimum, put away $200 per night. That's the minimum. But you'll be better off trying to save away $300 or $400 per full day you're there, just to make sure everything is covered, including activity and hotel costs. If you really want the "baller" experience then plan for $1000 a day. The beauty of it is the sooner you start planning the earlier you can toss cash at it. 
What Matters Most
Beyond money, the greatest cost is not having fun and not making sure your buddy has a good time. This is supposed to be the ultimate party before he gets married. The greatest cost will be to let him down. So do it up right and make sure you all have the time of your lives (even if the wild weekend takes a few years off of your life).
Whatever Your Budget Is
Just remember the bachelor party is for the bachelor. So make sure you plan the trip around what he likes to do. Not what you like to do.
Are The Pictures Even Worth It?
Here's the thing about pictures. Pics are great, just as long as you don't start posting them online. This is especially true if you tell the misses you're doing one thing, but someone posts about something else. That's trouble.
Make sure everyone knows the rules about no online posting. Unless it's pre-drinking, of some fancy cocktails or food or hitting golf balls, take pictures, but NO POSTING ONLINE, at least without some approval from the bachelor.
What's Best For Your Bachelor
You have a set amount of time in Vegas. Maybe it's an extended weekend, or perhaps it's a week. You need to identify what you really want to do the most (which, of course, means what the man of the hour really wants to do the most), and then build outward from there. Identify the things that absolutely need to be done, that you'll completely regret if you don't do, and then create layers from there.
It's okay if you don't get to everything. While there are plenty of things to do Vegas bachelor party, the last thing you want to do is try to over plan and jam too many things into the small window of time you have. There's no need to jump around constantly, because, guess what, even with the most ultimate Vegas stag activities, you will need some recovery time. You might need some R&R at the pool or spa. That's totally fine. Do what's best for your bachelor. Because, when it comes down to how does a bachelor party work, it works by listening to the bachelor.
In Closing
Hopefully you've been able to get something out of this Las Vegas bachelor party guide. Basically, it all comes down to what your friend likes to do. From golfing to playing video games, seeing naked women (a lot of naked women), to hitting up clubs, there's truly something for everyone in Vegas. This guide is here to help you with Las Vegas bachelor party ideas, so take it and run with it. Make it your own. And, remember, whatever you do, don't have any regrets.
Latest Social Posts
[instagram-feed feed=1]