Some of the best strip clubs in all of Sin City
The Sinful City's Best
So you want to dip your hands into the sinful waters of Las Vegas? Maybe drink up the debauchery while you have the chance? But where on earth should you begin? Why, the Las Vegas strip clubs, there's where.
Of course, there are some delightfully naughty alternatives to strip joints, as the professional escort scene in Sin City is unlike anywhere else on the planet. But maybe that's not your scene. Maybe you'd rather just search out the best Las Vegas gentlemen's club, kick back, and relax. You like to dabble with the beautiful women. Sample what the specialties are. Sure, you like to order a beer at the local brewpub, but you're more of a flight kind of person. You want to taste-test different offerings before taking the plunge.
Not a problem with that at all. In fact, when searching for the best semi-nude and full-nude adult club, you will want to shop around, take in the sights, and experience all there is to offer. While we will give you fuller, more complete rundowns of all the full nude strip joints in Las Vegas elsewhere on the site, we want to also make things easy for you. So here are the top seven places to find strippers nude, barely clothed, and ready to give you the night of your life during your visit to Vegas.
New Club Alert! Peppermint Hippo Gentlemen's Club
Are we the only ones that think it's a little use of the word "hippo" in a club with naked women? It's not just us, is it? Sure, it's not as tacky as the "hundreds of beautiful girls and 3 ugly ones" tagline of the old Deja Vu clubs (what a loophole, right?), but whatever. They are the experts, after all.
Anyway, we do love a new strip joint, especially a high-end club, because they instantly have to make their presence known, otherwise, they would sink like a stone. In fact, at least for the time being, we highly recommend checking the club out, because they have some of the best deals out there (all designed to lure in visitors as they establish themselves).
The club opened back in April and, might we say, we are impressed. Other clubs are struggling to keep girls on board because they are overcharging them to death. In case you're new to the world of topples bars, most clubs charge girls a kind of house fee. For some, it's a per-dance fee, but normally it's a flat cost they need to pay simply to work. Yes, you are reading that correctly. They have to pay to show up. The girls then need to hustle just to break even (which is why you've probably come across some really pushy strippers in the past).
Peppermint Hipp isn't doing that, which is why the club is bringing in some solid talent. Maybe of the experienced girls who are fed up with the other clubs are starting to move here. Which hopefully means the other clubs will start doing away with their crazy fees.
Things to consider:
$20 for table dances
$40 for VIP dances
Drink minimum? Yes. 2
Drinks: $8+ beer, $12+ cocktail
Bottle service: $400+
Girls: Up to 150+ every night (all makes and models 😉
Payments: cash (ATM is available), Visa/MasterCard
Stages: 2
Music: Mostly hip-hop, R&B, and rap
Reasons to Check Out the Peppermint Hippo Gentlemen's Club
We hope things don't change, although in the world of Vegas, things rarely stay the same. With that said, this is the only cabaret club that's actually on the Strip (crazy, right?). You're going to get some of the best drink prices of any major stirp club here, plus it is new, which means you don't have to think twice sitting down on the seating, wondering what in the world happened in the VIP booth before you.
---
Treasures Gentlemen's Club
This is a pretty trippy club, and we mean that in the best way possible. It's kind of like walking into an eclectic art gallery after chowing down on pizza that your friend told you after the fact was coated in magic mushrooms. It's colorful and, well, interesting. Some call it classy. We prefer to call it eccentric. Because some of the swirling carpets and decorations kind of have the vibe of a rich blind man decorating his penthouse. But hey, you're not looking at the swirling colors on the ceiling or the carpet that has more of a discount casino-feel to it. No, you're coming to the club in order to possibly book yourself some Las Vegas private strippers, or at the very least have fun with a few full nude strippers.
What we like about this club is it is a solid option for any budget. In fact, in many ways, it has better prices than the aforementioned Peppermint Hippo Club. Sure, it's not on the strip, so you'll need to catch a cab, but that's not an issue and it's an easy drop off. It's also a solid club if you want to avoid the hip-hop music scene of strip bars. We get it. Some people love that club music, others hate it. We just want to let you know what to expect. Speaking of what to expect:
Things to consider:
$20 table dances
$40 VIP dances
Drink minimum?: yes. 2
Drinks: $8+ beer, $12+ cocktails
Bottle service: $350+
Girls: Around 120+ a night, typically
Payment methods: Cash (ATM is available), Visa/MasterCard
Stages: 3
Music: Mostly electric, Top 40, and house.
One of the nice things about Treasures is it isn't just a strip club. You can order yourself a quality steak at the Treasures Steakhouse. This isn't your old, hard-as-a-shoe Ponderosa Steakhouse steak (are those even still around?). No, we're talking about high-end steaks, and there are often meal deals, which is great if you're coming with a buddy or significant other.
Reasons to Check Out Treasures Gentlemen's Club
This is one of the better full nude strip clubs in Las Vegas. Not only does it have a solid VIP room where you can get a world-class strip show, but this is one of the better-priced strip clubs in Vegas. The drinks are priced pretty well, and the dances aren't bad either. In fact, if you want to really have fun in one of the best strip joints in Vegas and hang out like a VIP, you can take advantage of one of the more affordable bottle service options in the city. So whether you head off to the strip club private room or you kick it with the girls on the main floor (and possibly with a steak), Treasures Gentlemen's Club is a solid option.
---
Hustler Gentlemen's Club
If we're all being honest here, if there's one name that will always be connected with the world of adult entertainment, it's Larry Flynt. For so many of us who grew up pre-Internet, Playboy was just a bit too tame. We wanted to see more action. The legendary Larry Flynt, who endured the emotional distress of being shot, put his money up to fight the legal battles for your right to free speech. If you don't know of this epic story, we highly recommend the movie 'The People vs Larry Flynt' with Woody Harrelson. Larry Flynt's Hustler magazine changed everything. It was raunchy and dirty, and yet you could find it at most newsstands. Sure, back when you were younger than 18 you entier needed an older brother to buy it or you had to sneak it into a newspaper and hope the clerk didn't question why a 14-year-old was buying the Wall Street Journal, but hey, we were working with sticks and rocks back then. Now? With the Internet, everything has changed, and that is exactly why you are reading up on our review of strip bar destinations throughout Vegas.
The Hustler Gentlemen's Club is a destination that isn't just for individuals in search of naked women though. Here you're going to find naked bros on the second floor. So if you're with your lady friend and she's only willing to go to a club if she sees someone drop dong, the Hustler Gentlemen's Club is the destination you need to check out.
Things to consider:
$30 VIP lap dance
Drinks: $8+ beers, $12+ cocktails
Bottle Service: $500+
Girls: 200+
Payment methods: Cash (ATMs are available), Visa/Mastercard
Stages: 4
Male strippers on second floor
Music: Just about everything, including house, Top 40, hip hop, electronic, R&B
The Hustler Gentlemen's Club is really best geared for events. It's setup is one of the biggest in the city, and with all the screens around, it's a solid spot to catch a fight or other sporting event. This is also the spot you want to go to if you want to see a porn star perform. Hustler is connected in ways other strip clubs aren't, so if you want to catch one of your favorite porn stars live an din person, this is the spot to be. Many even give private dances, although those are going to be a pretty penny.
Reasons to check out the Hustler Gentlemen's Club
Okay, so we absolutely hate the bottle service price. $500? Really? We all know the bottles they are selling can be purchased at any liquor store for $20-$50. So that kind of upcharge is just silly. If that's what you want to do don't let us stop you, but we put our foot down on that kind of expense. We'd rather just order drinks like average joes and then use the money we saved on dances (would you rather have a $500 bottle of Jack Daniels or a dance with your favorite porn star?).
With that said, this is a fantastic spot to catch live events and, as we mentioned, it is the place to be when you want to see a porn star perform. It also is one of the few nude male strip clubs that is built right into the female strip club. Your lady friend might even be able to see her own favorite porn star perform. You never know! It just goes to show you that the potential best gentlemen's club Vegas has to offer can also be one of the best nude male strip joints as well.
LEARN MORE
---
Sapphire Las Vegas Gentlemen's Club
Possibly the only strip club in Las Vegas that can compete with the Hustler is, at least in terms of size, Sapphire. This is actually the largest cabaret in the world, with 71,000 square feet of naked woman goodness.
Now, while it is bigger, it isn't always better. That's really because bigger means a larger price tag fixed to it. After all, you have to pay for such a massive building somehow, right? This is one of the clubs that have been taxing working girls with large house fees as well, which means they need to toss down a large sum of cash in order to work, which also means the girls that are on the floor will be trying to hustle and make that house fee really quickly. Everything past the house fee is pure profit. Everything up to paying the house fee means they are paying to work.
Probably the best bang for your buck at Sapphire though is the Dayclub, which includes a pool, where plenty of coeds will be, and even the cocktail waitresses are rocking some fantastic bikinis. The drinks are generally less expensive as well.
Things to consider:
$20 table dance
$40 VIP lap dance
Drinks: $8+ beer, $12+ cocktail
Bottle service: $500+
Girls: Boasting up to 400, although we question that number
3 main stages, plus several smaller stages
Payment methods: Cash (ATM is available), all major credit cards (so yes, you can finally use your AMEX).
Music: Top 40, house, electronic
This place is huge, but it isn't always open. Sometimes portions of the club are closed off. Basically, they want the club to feel full, no matter how many people are inside. We do like that there is a Fatburger located close to the entrance. Depending on how much partying you've done earlier in the day there's just nothing like a greasy Fatburger to soak up some of that alcohol.
Reasons to check out Sapphire
Really, you go because you want to say you've been to the largest adult bar in the world. Beyond this, the costs can be high, and sometimes a good thing can be simply too big. If you pass up on a girl and hope to see her come back around you may never actually see her again. Now, with that said, we love that Fatburger is on site, we also like how they do live events, so if you want to watch the Super Bowl with some titties at your side, consider Sapphire. But ultimately it is up to you.
LEARN MORE
---
Scores Las Vegas
This is one of those spots in Vegas that doesn't have the kind of attention it deserves, which is exactly why we love it. Some of the other strip clubs have almost become more tourist attractions than anything else. It means you're stuck fending off other visitors for a seat and for the attention of the girls. It's not like that at Scores Las Vegas. Here you're going to have a more intimate connection with the girls. It also has a very nice selection of music and drinks without going too crazy with costs, which, again, are major bonuses.
Things to consider:
$20 table dance
$40 VIP lap dance
$8+ beer, $12+ cocktail
Bottle Service: $300+
Girls: Around 80
Payment Methods: Cash, Visa/MasterCard
Drink Minimum: Yes, 2.
Music: Everything. Top 40, classic rock, Rap, hip hop, R&B
This club doesn't go overboard with the decorations. So many of the other spots have decor that is more an eye-sore than anything else. This one is clean and straight to the point. It is about as "low key" as you're going to get with a mainstream club, all while having a fine number of girls that isn't overwhelming.
Reasons to Consider Scores Las Vegas
You're going to cut away most of the riff-raff when going to Scores, which itself is a major bonus. You're also able to land some lower priced bottle service options. $300 is about as low as you will find it at strip clubs in Vegas. Plus, without all the traction of tourists, you won't have the same kind of throng of other visitors vying for the same girl you have your eye on. It is also very quickly becoming a destination for the best girls as well. Again, a major plus.
---
Crazy Horse 3 Gentlemen's Club
If you were to ask someone who has spent any kind of time in Las Vegas to name some well-known cabarets, Crazy Horse 3 would end up on that list. We wouldn't say that id necessarily does anything super great, as there is usually another club that will do something better, but it is one of the easiest clubs to get to as it's just right off the freeway. So, instead of trying to navigate out to one of the other strip clubs, many people just end up at Crazy Horse 3 because they see it, realize it's just one or two turns, and bim-bam-boom, they enter the club.
The club is also very close to Allegiant Stadium, the home of the Las Vegas Raiders. This means it is an excellent spot to pre-game and to have some fun before the Raiders take the field. You might end up getting so distracted that you miss kickoff, but hey, as long as you're having fun.
Right? Once upon a time, this was the place to be if you wanted to see a porn star perform, but not so much any longer. You'll still see one stop on through from time to time, but Crazy Horse is starting to die down.
Things to consider:
$20 table dance
$40 VIP lap dance
Drinks: $10+ beer, $14+ cocktail
Bottle service: $389+
Girls: Around 120, give or take
Stages: 2, with several secondary stages
Payment methods: Cash (ATM is available), Visa/Mastercard, Bitcoin
Drink Minimum: Yes, 2
Music: Top 40, Rap, R&B, House, Electronic
This place isn't what it once was. Some of its former glory has started to fade. It's still a good place to see beautiful women, but even the number of women working every night has dwindled, due to the hefty house fees. And, as you can see, the drink costs are on the higher end as well.
Reasons to Consider Crazy Horse 3
Basically, we'd say the best reason to go to Crazy Horse 3 is because you're on your way to a Raider's game and you want to see some T&A ahead of time. It's an easy destination to make, and it's right on the way. Other than that, the drinks are more expensive and we don't think it has the number of dancers it likes to boast. Bottle service isn't bad though. It also has a pretty solid food menu (although we personally enjoy a Fatburger).
---
Sophia's Gentleman's Club
Sophia's is more of a low key adult bar. It isn't as large, and it doesn't have the same tourist attraction as most of the other spots. But this is what makes it great. It's more locals than anything else, and yet you're still going to have a large helpful of beautiful girls.
Things to consider:
$20 table dance
$40 VIP lap dance
Drinks: $10+ beers, $14+ cocktails
Bottle Service: $469+
Girls: Up to 50
Stages: 2
Drink Minimum: Yes, 2
Payment Methods: Cash. Yup, just cash (ATM is available)
Music: Top 40, rap, R&B, hip hop
This is a good option if you want to get quality facetime with women. It's also a good spot if you're trying to budget your time out (and leave your ATM card in the hotel room).
Reasons to consider Sophia's Gentleman's Club
It's all about the girl facetime here. It's smaller, still has dozens of girls, and you don't have the tourist crowd. However we still think the drinks are overpriced. The cash-only option makes things tricky at times. We suggest bringing what you plan on spending and skip the ATM, because those fees are a killer.
---
Spearmint Rhino
We guess it makes a little more sense than Peppermint Hippo, but still. The club has been recently renovated, but it's still pricy, and the girls get nickel and dimed as well. It's a known commodity, so it's necessary to put it up, but we also think that if they don't change up some of the costs for both customers and contract workers (the girls) it's not going to be around for much longer.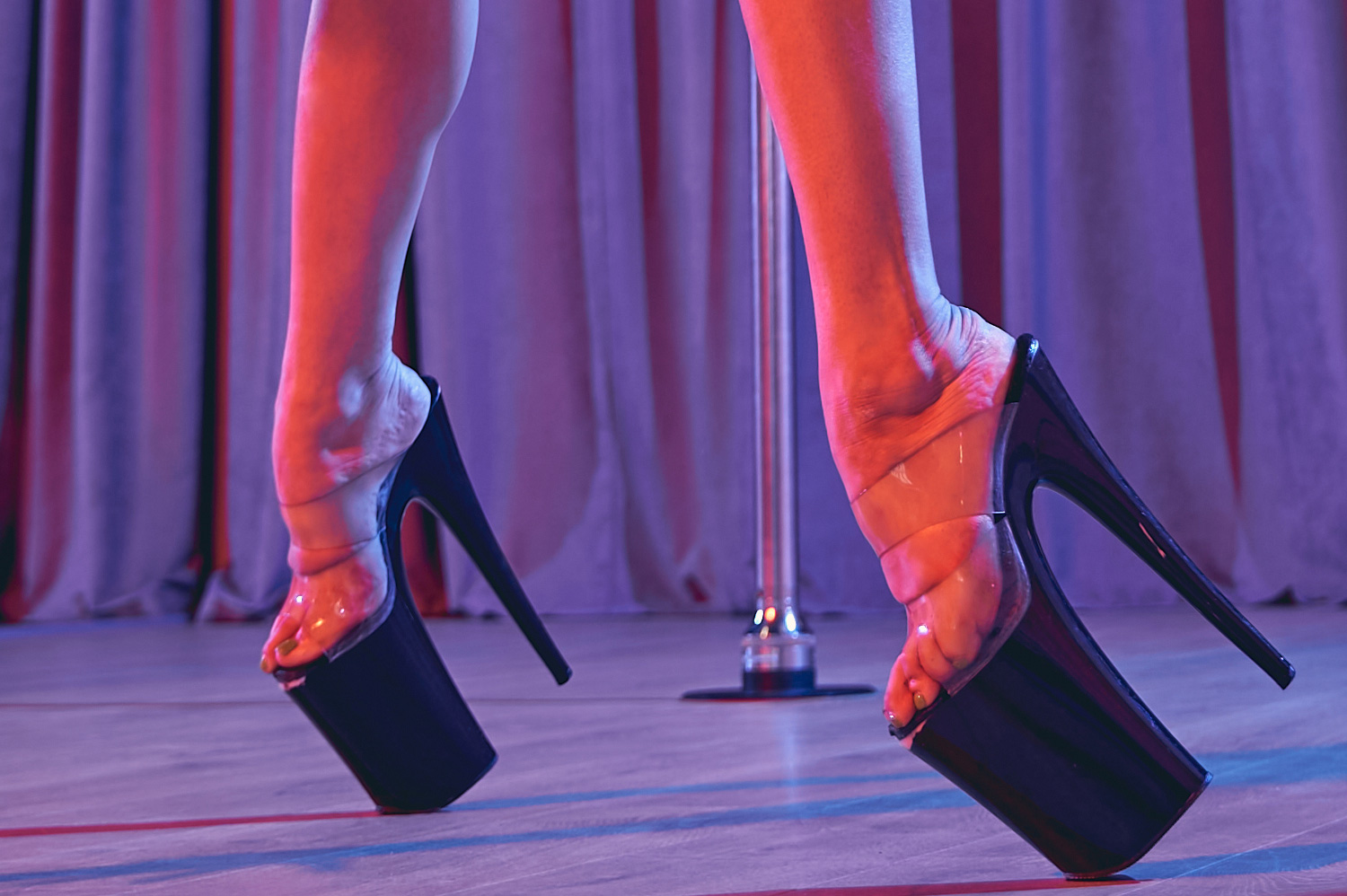 Things to consider:
$20 table dance
$40 VIP lap dance
Drinks: $12+ beer, $14+ cocktails
Bottle service: $650+
Drink Minimum: yes, 2
Girls: They claim up to 100 a night
Stages: 3
Payment: Cash (ATM is available) most credit cards
Music: Top 40, house, electronic
You're going to find some hot girls here, but they are going to hustle. The costs are high not only for you but for them, so you better be prepared. If you drag out conversations and aren't willing to budge on a dance they are more likely to get annoyed, perturbed, and sometimes be a downright bitch to you. Don't take it personally. If the exotic dancers have been blown off by several potential customers they might be worried that they won't make their house fee. So if you're not interested in a girl, tell her that straight up. Don't yank her around.
Reasons to consider Spearmint Rhino
While there are a ton of negatives ($650 for bottle service? Come on now), you will still find some of the hottest girls on the strip here. Just be prepared to pay up and not waste time. If that's something you're cool with, then check out Spearmint Rhino. If not, go somewhere else.
LEARN MORE
---
Other Strip Clubs
There are other strip clubs to consider that are still good, but they are either too small to write a large post about, or they are further away. But to give you a few other options, consider:
Little Darlings
This is an 18+ strip joint, which is great if you're with a buddy that isn't 21. This does mean they can't serve alcohol though, so keep this in mind. There's also a 2-drink minimum, which is a bummer, because who wants to spend $20 on Pepsi?
Palomino's
This is a fully nude club that serves liquor. In fact, it is the only club that offers both (even though you can likely get some fully nude dances in the VIP areas of other clubs). The Palomino club is able to pull this off because it was grandfathered in before the law changed. The girls are laid back, which is both good and bad. It's at least worth checking out to see fully naked women walking around.
Centerfolds Cabaret
When you're running out of options for the night and you pass Centerfolds, stop by. It would be a good club if it wasn't in Vegas. But it is.
Girl Collection
Owned by Floyd Mayweather (yes, the boxer), this is a cabaret that could be great, but it's hard to know when it's open. So check the company's Facebook page before trying to head out.
Conclusion
Basically, there are tons of strip clubs to check out when in Las Vegas. A convenient excuse to leave Los Angeles. These are just some of the best, and some of the rest, you should consider. And, if you need help, we are here to help make your Las Vegas experience truly unforgettable.
---